Written by Josh Spickler on February 2, 2009 3:31 pm EST
If you're new here, you may want to subscribe to my RSS feed. Thanks for visiting!
Recently, California's comptroller announced that, "in approximately 60 days," there would no longer be enough money in the state government's coffers to sufficiently cover its 2008-2009 Budget Act. To make sure that they have enough money for the state's obligations to its schools, debts, etc., they are going to be issuing what are commonly called IOUs to California residents in lieu of tax refunds. Currently California has a $15 billion shortfall in its budget.
So we've come up with some genius ways in which California could get some money to pay its citizens the money they're rightfully due.
Top 10 Ways that California can afford to pay its Tax Refunds:
10.  24-hour telethon - Just have California's citizens pay more money, and then give it back to them in the form of their tax refunds. Might want to stay away from Jerry Lewis though. And Kanye. 
9.   Repeal Proposition 8 - You get same-sex couples excited again and get more of them moving to California, in turn generating more revenue. Here's the catch: tax them more for same-sex marriages, since it's apparent that nobody likes gays there anyway.
8.   Play the lottery - The jackpot's $70 million right now! That's got to at least be a drop in the bucket.
7.   Take over Nevada - They've got Las Vegas, which brings in tons of cash, and for the most part, nobody even lives in Nevada, so who's going to care anyway?
6.   Bachelor/Bachelorette auction - Well, maybe not only bachelors or bachelorettes, but just give me some way to hang out with Arnold!
5.   Legalize It - Everyone goes to California for the *cough* beaches. So just let anyone go on the *cough* beaches whenever they feel like, man. Then you could, like, tax the *cough* beaches so much more than they already are.
4.   Disney Dollars - Just issue Disney money instead of real money. I don't think Disney would mind the increase of visitors spending money at its parks.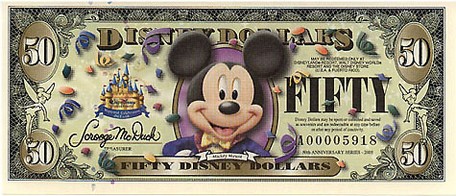 3.   Bake Sale - Who doesn't love cupcakes? That's un-American.
2.   Ponzi Scheme - It's speculated that Bernie Madoff's, "company," is responsible for upwards of $50 billion in losses. So what if it's illegal, unethical, immoral, and sleazy? So is Carlos Mencia.
1.   Payday loans! - If all else fails, the state of California could always take out some short term payday loans. Everyone wants to ban them until they're $15 billion in the hole.
Trackback URL for this post: http://www.gimmiethescoop.com/california-cash-crisis/trackback
Leave a Reply